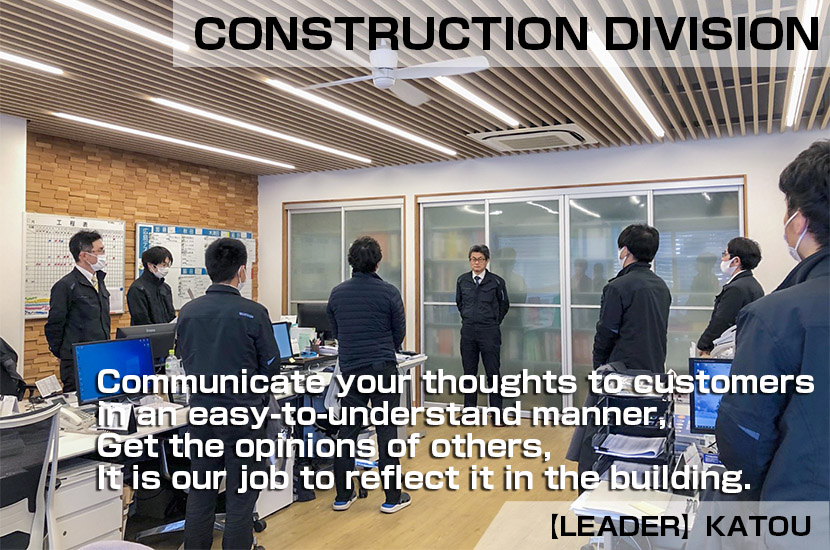 MESSAGE
Creating new generation system
Developing young power
Korean, Chinese Products are contributing to our Sales (ALUMINIUM MATERIAL, STAINLESS PRODUCT )
THIS YEAR THEME
GROUP POWER
In cooperation between KYUSHU GROUP including KYUSHU YOUKOH and each sales office in
CHUGOKU AREA, we will make strong sales promotion to OKINAWA, KYUSHU, CHUGOKU,SHIKOKU
and KINKI AREA.
PURCHASING POWER, UP-TO-DATE INFORMATION
Strengthen purchasing and sales power by using cooperation with our Overseas company
"ZENBI SDN BHD and OVERSEAS PARTNERS", we will participate exhibition both in domestic
and also Overseas.
CONSTRUCTIVE POWER, SALES POWER
For the innovation of construction field, young and group staff training will be executed.
By challenging to the various kind of products, we will cultivate valuable and large experiences.
BUSINESS OUTLINE
IMPORT ITEM
FLOORING MATERIAL " DEKORIKA Click "・FLOORING MATERIAL " DEKORIKA "・FLOORING MATERIAL " DECOWOOD "・GRATING・ALUMINIUM PANEL ( KOREA )
STONE CONSTRUCTION
INSIDE/OUTSIDE CONSTRUCTION, ETC
WATERPROOF
ALUMINIUM CAP
ROOF DRAIN
METALIC PROCESS

STAINLESS, STEEL, ALUMINIUM HARDWARE( HANDRAIL, BALUSTRADE, ETC )

CEILING, MANHOLE

WROUGHT IRON

FIXTURE
SHUTTER
ELEVATOR LIFT
ELEVATOR
INTERIOR
CURTAIN
BLIND
MISCELLARY
FINISHED HARDWARE (POST,SINK, VENTILATOR, ETC)
KITCHENWARE, UNIT BATH, HOUSING EQUIPMENT
STEEL FLOORING, SLIP STOPPER, STRETCHER(NAKA KOGYO, YM KOGYO, ATLAS)
EXTERIOR
FENCE (ASAHI STEEL) GRATING
SHED, BICYCLE-SHED, ETC
EXTERIOR PROCESS
CYCLE-STAND, FLAG POLE. BARRICAR
SIGN BORD
OUTDOOR & INDOOR SIGN BORD, ETC
DECORATION
ARTHAWKSTONE, MIKAMI PRODUCTS, ETC
MISCELLANY

COMBIWITH, ETC
CARE EQUIPMENT, STORE(HOKUMEI ETC)
HEALTH CARE HOUSING, AIR FLOAT PROCESS
BIZNET(web)
POOL(OTTO)