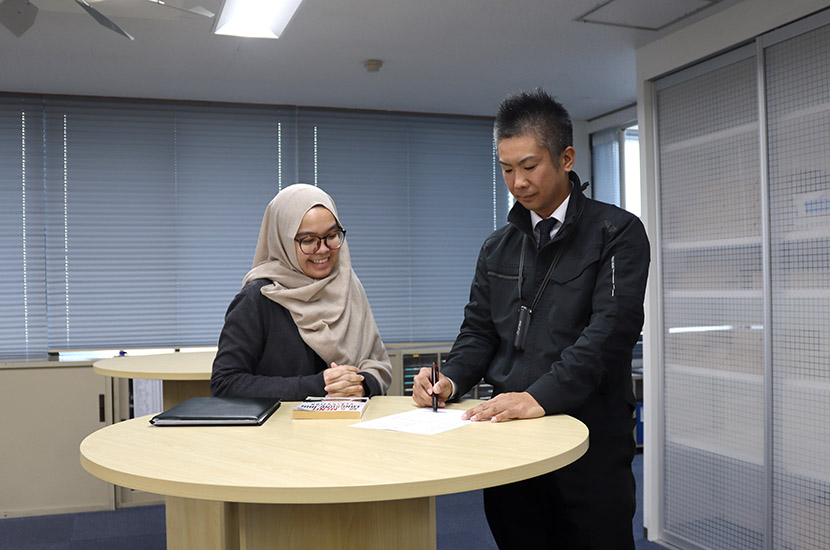 MESSAGE
1.Due to Yen's appreciation and Lehman Shock, the many Japanese companies accelerated moving to the abroad.
2.In addition, Japanese Economic situation is getting better. Therefore they are aggresively taking active action toward the overseas operation, even though there are facing to the difficulty.
3.We, ZENBI will surely contribute and help your activity wherever you will go to abroad.
We can communicate and correspond with English, Chiness and Malay / Indonesian.
Assist to troublesome Overseas transportation including Export and Import procedures
In 1990 Bubble Economy burst in Japan, the many manufacturers transferred their production facilities to the abroad.
The subsidiary parts / components manufacturing companies also moved to the abroad, together with the parent companies.
Everybody were worry about drastically decrease of production facility in Japan such as " KUDOKA " in Japanese. It is because that companies easily can procure necessary parts / components in domestic soon after they start production in abroad.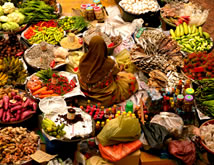 However it is very difficult and troublesome for them to procure in local due to quality problem. So, its necessary parts / components have been supplying from Japan.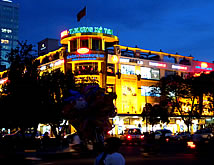 Actually it is very complex to send these parts / components to the abroad such as :
1.Documentation
2.Foreign language
3.Meeting
4.Delivery arrangement
5.Packing
Etc .
In order to make it smooth operation, the person in charge have to have knowledge for its parts / components in additional to the ability / know - how for its way of trade.
the person ( s ) as mentioned above is ( are) " ZENBI " staff.
the PO ( Order ) distribution, meeting arrangement and transportation will be handled by " ZENBI".
We are specialist for handling factory / production materials.
If we take care of these materials, the customer is escaped from any troublesome and concentrated on the original routine work. Since we started business as Overseas Division, we have lots of inquiries and also it is still increasing year by year.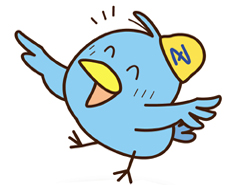 The followings are five our proposals in the case of " Overseas transportation and its service "
① Cost down for handling fee.
Normally PO distribution / Management and its transportation will be ordered separately, it takes time and cost more than one stop service to us. Which also bring about lack of responsibility.
we, Zenbi, can handle both PO distribution / Management and its transportation.
At the same time as one stop service, it's time and cost will be remarkanly saved.
② Speedy / timely trace is available
After issuing PO, it is very easy for us to check and trace what is going on because of one stop service.
③ Verious actual record and our wide network
Since 1970, there are many business actual records which shows ZENBI reliability and capability.
④ World - wide communication
Our staff can communicate in english, chinese and Malay / Indonesian to your Local staff.
⑤ Regularly routine visit to customer's Overseas factory.
Our staff will visit to customer's Overseas factory every 3 month in order to confirm update situation and get actual needs, which gives a lot of satisfactory and security to the person in charge of the customer.
Transportation flow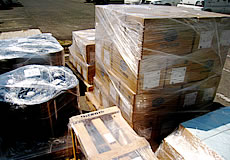 ・There are many documents and regulations at the time of transportation
・At the customs clearance, irregular Certificate of non - cocom
Item, MSDS, and certificate of origin ( CO ) will be necessary.
・In those cases, the extra manpower will be necessary to take care of it
Order for transportation to the overseas factory
①PO issued from both domestic and overseas factory.
②Incoming goods to the warehouse.
③Packing combined to save the cost.
④Preparation for necessary documents.
⑤Delivery its goods to customs forwarder.
⑥Dispatchment of shipping documents to customers overseas factory after shipment.
⑦At the overseas side, arranging customs forwarder and trucking.
⑧Arrival at the overseas factory
There are many troublesome works for the Japanese manufactures in Overseas when they procure consumable parts/components in local. Also there are many difficulties for Japan HQ to send its parts/components to the Overseas subsidiary.
It is because of different country regulation and market condition, There fore!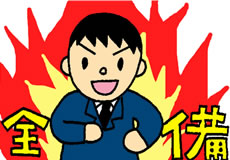 ②~⑦all process to be controlled and handled by Zenbi!!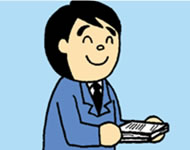 Receive PO from both domestic and overseas factory.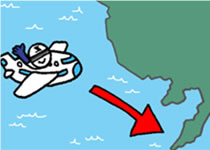 Packing at our W/H
↓
Export customs clearance
↓
Dispatchment by Vessel and / or Air!
Delivery at overseas factory.
Remark :In the special case the delivery up to sea port due to country regulation.
The Payment will be :①In Japan
②At overseas factory
③By L/C
etc to be discussed.
TECHNICAL SUPPORT DIVISION

We sel I equipment that is made in Malaysia. We recommend using equipment that is made in Japan and Ma I ays ! a. We offer suggestions for improvement such as how to reduce costs of equipment production, how to increase production capacity, and the introduction of inspection equipment.
SALES TERRITORY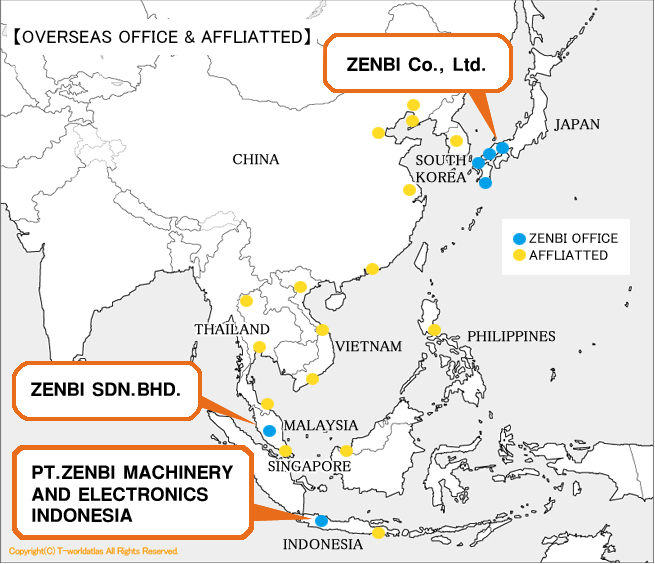 MAIN HANDLING ITEMS
Air and Oil press related equipment, Measurement equipment, Precise electric and processing equipment,
Maintenance parts, Clean room equipment. Production consumable parts, Manufacturing JIG / TOOL, etc.
MALAYSIA SUBSIDIARY COMPANY
With branches in Kuala Lumpur, Pulau, and Pinang, we are able to respond to inquiries from al I over Malaysia faster.Malaysia has a long history of producing electronic parts and semiconductors, as wel I as many local equipment manufacturers and precision part processing companies that are very competitive in the world market. Of course we se 11 Japanese products, but we recommend that you also get estimates on equipment design and precision machining parts produced in Ma I ays i a, something we ca I I "I oca I i zat ion"
SERVICE FLOW CHART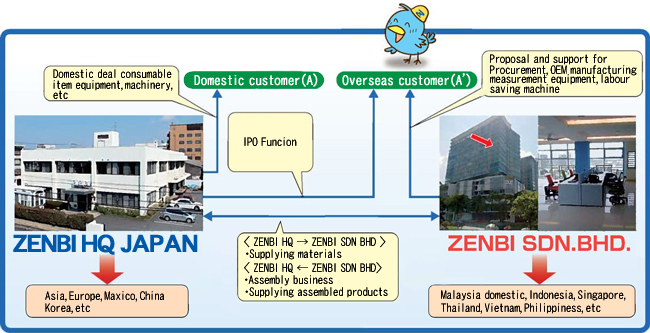 INTRODUCTION OF SALES OFFICE
ZENBI SDN.BHD.
UNIT A-10-01 LEVEL 10,EMPIRE OFFICE TOWER,EMPIRE SUBANG JALAN SS16/1,47500 Subang Jaya,Selangor Darul Ehsan,MALAYSIA
TEL +603-5612-2080
FAX +603-5612-3080
JAPANESE WINDOW
(+6012)280-4917
MAIL: info@zenbi.com.my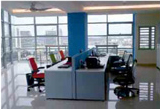 PT.ZENBI MACHINERY AND ELECTRONICS INDONESIA
BUSINESS
1. "GOYOU-KIKI",not only order taker
Understanding needs including potential ones, we propose solutions and introduce proper sales method to our customers in various business categories.
Fine correspondence and quick sales support will differentiate us from the others.
2. Import agent for sales expansion
Under full ownership of capital,ZMEI obtained License as a trading firm.
Since receiving operating permission is getting more difficult even for manufactures,ZMEI can support sales expansion in Indonesia as your import agent.
3. International trade
We import,export parts and products from various countries for our customers.
CIKARANG TECHNO PARK BUILDING-3A
Jl.Inti 1 Blok C1 No.7 Lippo Cikarang Bekasi 17550, Indonesia
TEL +62-21-89905877/78
FAX +62-21-89905876PT.ZENBI MACHINERY AND ELECTRONICS INDONESIA (ZMEI)
Web site